a piece of home: with Coco Fennell
I met Coco nearly 13 years ago, when we interned at a fantastically cerebral literary 'zine called Notes From the Underground (yes, as in the Dostoevsky). It was way ahead of its time on so many levels and sadly- and inexplicably- did not stand the test of time. Genius as it was, commuters just always seemed to pick London Lite over poetry. Suffice to say we were slightly out-of-our depth, but totally passed as undiscovered Simone de Beauvoirs on the cusp of producing an era-defining piece of prose.
Not only was Coco the closest thing to a real-life '50s pinup (disarmingly beautiful with unicorn-coloured hair) I'd seen, she was wonderfully kind; accompanying me for lunch every day- even though I was the new girl- and helping me fend-off juvenile drug-dealers as we wandered the streets of Shoreditch.
Whilst Coco went on to start her wildly successful clothing line, worn by the likes of Rihanna and Kylie, I plodded on, interning at various publications (that weirdly all seemed to fold moments after I joined) watching with delight as her dresses went viral and her hard-work paid off. As you can imagine, her home is as stylish as she is and it's been a dream of mine to pick her brains on all her amazing pieces. Over to Coco... 
"When I bought the house it looked like it hadn't been touched since the '50s. There was swirly carpets and ugly wallpaper, but the bones of it were lovely. I still have all the original cornicing, fireplaces and floorboards.
I love fun, silly stuff that makes me feel happy. All the things I loved growing up were colourful and silly; films like Romy and Michele's High School Reunion or Edward Scissorhands, where everything is so poppy, visually. My family are all eccentric but our house growing up wasn't too mad. I just don't know how to tone it down."
"I bought these amazing reupholstered pink vintage armchairs from Anenome Interiors. The jukebox is a reproduction one. You can plug your iPod into it and play music through it. I love to do Karaoke nights with my friends. Never Ever by All Saints is my go-to song. My brother-in-law bought me a Bluetooth microphone so I can rove across the house singing. 
The prints either side of the mirror are by Ceal Warnants. I did a collaboration with her about two years ago. In my sister Emerald's film (A Promising Young Woman), Carey Mulligan is wearing one of the tops from that collaboration. Nancy Steiner, who also did the costumes for The Virgin Suicides, did all the costumes for Em's film. I love her dreamy aesthetic."
Below: Carey Mulligan wears one of Coco's designs in her sister Emerald Fennell's film Promising Young Woman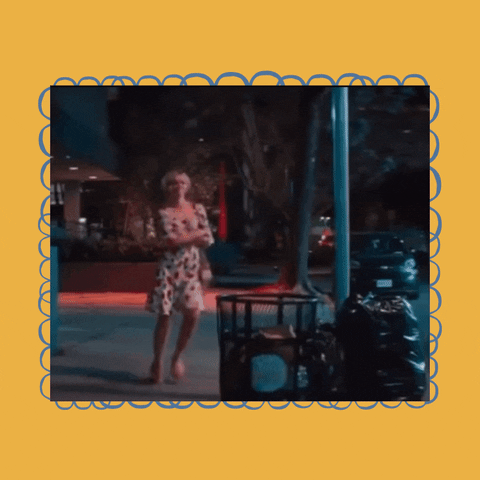 Coco's fiancé designed this "
Will You Marry Me"
sign with artist Alexa May Hughes and proposed with it; vintage French wedding dome from eBay; Fish and Chips light from an antiques fair. 
"I was actually going to paint the bathroom dark green with dark floorboards and make it quite moody. It turned out the floor had caved in so we had to have it restructured. It was so expensive that I couldn't afford to relay it with wood. The checkerboard lino turned out to be really reasonable and such a statement. I love all things circus which explains the wallpaper here."
Master bedroom: Manual Canovas "L'Envol" wallpaper; Cath Kidston bedsheets, vintage tablelights 
Guest room: Sanderson "Summer Strawberries" wallpaper; velvet banner by Alice Gabb, vintage gramophone Coco carried home on her lap from India.
"There are certain things I get obsessed with like my Tin Tin, rocket-shaped, magazine-stand. My friend found one in the street when we were about 18 and I became obsessed with finding one. I kept my eye out forever and then eight years later one came up at an auction house that specialises in old fairground and circus memorabilia. I buy my vintage from my great friend Alice's company, By Alice Home. She has incredible pieces. I also love Vine Street Vintage and Kempton for one-offs.
I am very instinctive with what I like. There is no agonising or deliberating. I love Americana, neons, jukeboxes, old signage and old posters. I definitely see a connection between my interiors and my clothes. I want the clothes that I make to be fun, flattering, easy and feel-good- and that is also the environment I want in my home."
Above: shark head from The Jolly Roger; circus stripe stair-runner Carpet Right; Manuel Canovas wallpaper in Coco's dressing room