a room of my own: marianne cotterill
once in a blue moon someone comes along with such singular style, it makes you go, "where does she even come up with these things". Marianne is just that. the Bowie of interiors, if you will. 
as a lifelong collector, every piece in her London home is totally inspired, completely one-off and thrown together so masterfully you just couldn't recreate it if you tried...it's no surprise Marianne has been asked to style shoots for Vogue, Elle Decoration, ST Style and many more...
Marianne is also a published author and her new book Dogs at Home is available to pre-order now before its release on 13th august...
I visited her to steal some of her gold-dust and nosy around her house in North London, which she also hires out as a shoot location. prepare yourselves for this visual feast...
(Honoré Deco hanging light; mirrored dressing table bought at an auction house in Islington, original Victorian vanity)
(Florence Broadhurst wallpaper; italian tole sconces; and a '50s bathroom suite  which came with the house) 
(Farrow and Ball walls in Stiffkey Blue; mustachioed men are hat stands from a sombrero shop in San Antonio, Texas; sofa from antiques market in Belgium reupholstered in vintage fabric)
(murano glass mirror; fan lights salvaged from a cafe in Paris, picked up in Portobello market)
(antique corbeille bed; bedding from Preen Home and Society of Wanderers; walls Farrow and Ball, Pink Ground)
 (bedroom: Florence Broadhurst wallpaper; Raj Tent Club chandelier; midcentury palm tree lamps; Hope and Glitter artwork above headboard. bathtroom: C.P. Hart stone tub; vintage art work framed at Graham Harrison on Kensal Road)
(Jonathan Adler canisters; outsider art by Earl Swanigan)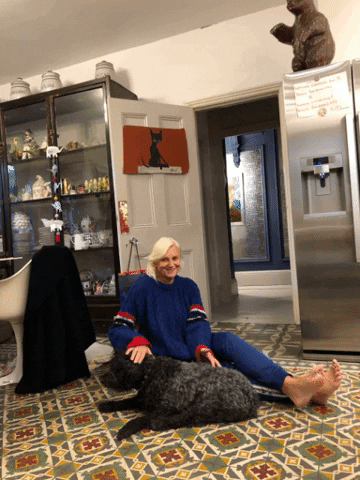 (Marianne and her beloved dog Lolly)